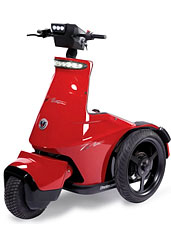 If
Paul Blart: Mall Cop
taught you anything, it's that Segways can come in handy every now and then.
So let's go for a ride, Blart-style...
Say hello to the
Police Officer's Electric Chariot
, a highly elegant yet totally badass personal scooter, available now for your amusement.
We see this vehicle providing a couple of functions. First, if there's someone special in your life who has "three-wheeled scooter used by select police forces" on their wish list, this is the gift for them.
Second, let's say you're in the middle of a high-pressure baking situation for your in-laws. You're halfway through creating a masterful loaf of banana bread, when suddenly you realize you're out of eggs. If you've got a fully charged one of these, you'll just hop on it, fire up the LCD display and hightail it to the store at a crisp 20 mph.
And don't worry if you happen to be in Beacon Hill. It handles inclines up to 22 degrees and features a zero-degree turning radius (read: turns on a dime).
Its two rear tires even come with aluminum rims.
With electric scooters, it's
always
about the rims.