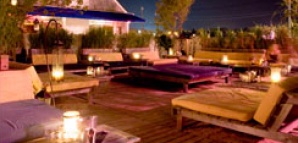 It's time to start thinking about getting back to the beach.
And apparently this summer, the place to check out everyone's tan will be the new
Pink Elephant Southampton
, opening Memorial Day Weekend.
The Elephant is descending upon the Capri Hotel, taking over the former Cabana with a 2,000-square-foot indoor lounge that's only a set of terrace steps away from a sprawling 6,000-square-foot beach scene.
David Sarner and friends, in trademark swank PE style, have brought in 250,000 pounds of sand to create a faux beach, with Chinese lanterns hanging from trees, roaring outdoor copper firepits, and seven VIP pagoda-style cabanas. And because no cabana is really complete without climate control, each has a heat thermostat so you can keep your girls warm and protected (as they partake of the caviar-and-oyster-only menu). Where there is a faux beach, there is also "faux" water, a deep swimming pool ripe for some nighttime dips.
The separate sound system will pipe out a chill vibe outside, but the party will remain PE-style inside. PE Southampton will feel similar to its
NYC counterpart
with a hedge-trimmed entrance, curved banquettes and wood screens. Here, though, the ever-helpful aphrodisiac-pumping scent machine gets outdone with two additional must-have machines hidden up in the ceiling—a liquid nitrogen machine pumping out cold blasts and (yes, that's right) a snow machine—so that you can experience some snow fall in the middle of July.
After all, if you wanted to sweat, you would have stayed in the city.