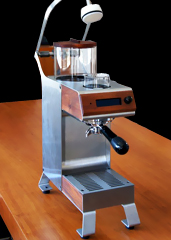 This morning, you got out of bed.
At which point you probably yawned, stretched and did the whole soaping and rinsing your body while singing "More Than a Feeling" thing.
And then, you poured yourself a cup of coffee...
From the most ridiculous f**king coffeemaker known to man.
Well, that option is about to exist, anyway. Because here it comes: the
Blossom One
, quite possibly the world's most future-y coffeemaker... or at least the one with the most built-in cameras and internal analytics systems, available for preorder now and shipping this spring.
You don't need this. Probably never will. But hey, maybe you just... want it. Maybe you're really into this stuff and can't imagine starting your day without going full George Jetson on your coffee.
To that end, here's what you're dealing with: a stainless-steel and wood-grain device that comes equipped with wi-fi connectivity, a front-facing camera for QR code scanning (it's for the finding and storing of custom brew recipes) and an internal computer that may as well be robot Juan Valdez.
Right. It also makes coffee.
So if you must, just shoot the Blossom team (you know, the Blossom team) an inquiry, and they'd be happy to get one out to you come spring.
Things are about to get awkward between you and Mr. Coffee.