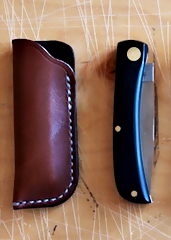 Here's how today is going to pan out:
First, you're going to browse through some very attractive new leather things.
Then, you're going to make them yours.
You've got a full plate... we'll let you get to it.
Because here comes
Tipton & Co.
, a new leather goods outfit where everything is made by hand, serves a very specific purpose and may or may not make you better at existing than everyone else, online now.
There's a real nuts-and-bolts vibe going on here. Camera straps and sunglass cases and the like. The little things, mostly. Those are important.
So... Bryan Bowie. That's the guy you need to thank for this stuff. He's a real fanatic, this one. Punches every hole himself. Stitches every stitch. Probably says things like "No, no. You're extracting tannin from the bark of that tree all wrong." (We're spitballing. Run with it.)
Anyway, take a look around. Won't take long. Let's see, there's an iPad case made with vegetable-tanned English bridle leather. Black Horween leather card holders. A bunch of little pocketknife sleeves. And that's... pretty much the long and short of it.
Don't tell us you don't know someone who needs little pocketknife sleeves.