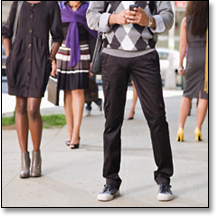 Spontaneity is said to be the spice of life.  
But being impulsive usually requires a bit too much thought and effort.  
Here to bring some zing back into your routine:
Twiddler
—a new iPhone app that acts like a mobile planner, advising you about what to do based on three components—your mood, location and how much time you have to spare.  
We can envision endless scenarios where this Urbanspoon-like app will come in handy. Take your average Saturday: You're in Hayes Valley, in need of a drink and have a few hours to kill. Tap "thirsty," select how much time you've got (from one hour to all day—OK: all day), hit "walk," then spin the wheel. It'll search Yelp's platform in real time to come up with a suggestion (let's say Blue Bottle). If you don't like that option (say you want a stiffer drink), keep
spinning the wheel until it piques your interest—maybe it'll be Hotel Biron, maybe Absinthe.
 
So far the app only covers San Francisco, but look for an update in a week or so with a national version and a few major cities like New York and DC (just in time for the inauguration).
 
Because you never know where you might end up.