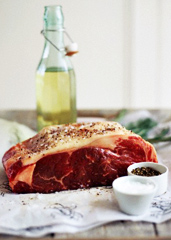 Come. Journey with us.
To a mystical land where rigatoni grows on trees and olive-oil waterfalls cascade from the heavens.
Where meatballs are exchanged as currency and... Mario Batali walks around saying hi to people.
Okay, so it's Eataly.
You know, Batali's sprawling coliseum of Italian-ness in NYC. It's magnificent.
But unless you live there, you don't get any.
Or, wait...
Seems they went ahead and launched the
Eataly Online Store
, your first shot at stockpiling exorbitant amounts of Italian everything outside of the Manhattan mother ship, online now.
Sweet God, this place is fantastic. There's everything. Pound after pound of osso buco and lamb racks. Olive oils we can't even pronounce. Enough tagliatelle to build the world's largest ball of tagliatelle. And it's all on the Internet.
Feels like pretty good timing, too. What with all that holiday hosting you're about to do over the next week or two. So jump on the site. Get into it. Grab a jar of black pesto and tell people you're serving them black pesto. People love that.
San Marzano tomatoes: sure, those are there. Veal frenched rib chops: don't mind if you do. It's all in the name of bringing a little Batali-approved old country to those in need.
And eating veal frenched rib chops.