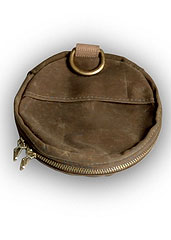 Your current knapsack is fine.
But it's a bit old. Frayed. And putting in jeopardy everything you carry in it (laptop, notepads, crossbow).
Enter two gents from the Pacific Northwest and their USA-made satchel handsomeness, swooping in just in time.
Say hello to
Collected Works Co.
, purveyors of beautiful but durable canvas bags and Batman-ish utility pouches, online now.
First of all, let's talk about the appearance of these bags. They're rugged-looking yet attractive, in an old-school military way. So they're the kind of heavyweight canvas carryalls ideal for weekend trips to Martha's Vineyard... or the Rockies.
Speaking of mountains, you'll be happy to know these bags won't break down on you halfway up one. That's because they have all the functionality and strength you'd expect from materials completely sourced and crafted in America (e.g., their leather straps are made by Horween, one of the oldest tanneries in the US and the same company that makes the leather used in NFL footballs).
In addition to bags, they also offer a bunch of nifty utility pouches. Which are perfect for storing your power cords, earbuds and whatnot.
Whatnot can be a pain to keep track of.