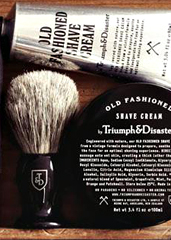 We're going to level with you here.
You've got your work cut out for you over the next couple weeks.
Because as far as important things go, staying on top of your holiday game is... one of them.
You'll need to procure thoughtful things. You'll need to practice your artisan-cheese-gift-basket acceptance speech.
And you'll certainly need to look presentable.
Better yet... miraculous.
Which is where
Triumph & Disaster
comes in, a web-based groomery out of New Zealand doling out all manner of old-fashioned shave creams and facial scrubs with names like Rock & Roll Suicide, online now.
These are grooming products. They're for grooming. They're also for turning you into a more glorious version of yourself than you ever thought possible. Close enough, anyway.
It all started when a young Kiwi named Dion was given a Rudyard Kipling poem from his father. The name: "If
.
" The message: honor, integrity and becoming a man. And something about triumph and disaster. And so this stuff was founded on those values. Also, smelling better.
What this means to your face: well, you get to put a volcanic-ash-and-green-clay scrub all over it now. What this means to your straight razor: it'll be plying its trade over a shave cream that smells like an old-school Turkish barbershop.
And who doesn't want to smell like an old-school Turkish barbershop.