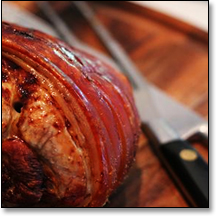 Now that the holidays are over, one might foolishly assume that the time for house parties has passed. But that person would be wrong, so wrong we feel slightly embarrassed for that person.
Especially given the fact that
La Caja China
, purveyors of the infamous Cuban-style pig-roasting "China Box," just launched a new catering venture in which they'll cook the whole hog (literally) and all the trimmings right in your backyard.
Caja's grilling powers are already legendary within Miami barbecue circles. Using a metal-lined plywood box covered by a tray of hot charcoal, their China Box cuts the usual 10-hour pig-roasting time to a nimble three hours and forty minutes (just enough time for a pitcher of mojitos...or five). The magical roaster cooks the pig until it is marvelously caramelized, with a perfectly crispy skin.
To create this porcine feast in your own home, Caja sets up the roasting box, provides an already-brined pig (a 45-pounder is recommended), seasons it with a homemade mojo, lathers on a dry rub of adobo and quickly gets to pork-roasting. Once the pig is done, they lay bare a buffet of Latin side dishes like black beans and rice, fried sweet plantains, yucca and salads. They can also provide tables, chairs and linens, depending on your entertaining needs. Leaving you free to worry about more important things.
Like freshening up that pitcher...