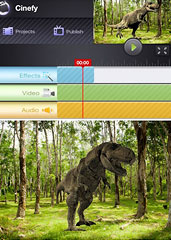 We're lovers. You know that. But every now and again, something comes across our desks that just seems... suspicious. Because of the tremendous material upside to all our lives if these claims pan out, we at times put ourselves in harm's way to investigate. Albeit skeptically.

We call it: Skeptical Investigation. (Trademark pending.)
THE CLAIM

An app called
Cinefy
lets you add Oscar-worthy special effects, animations and music to your iPhone videos. Well, Oscar- or Michael Bay–worthy effects...
THE INVESTIGATION

To assist with our testing, we called in Steven Spielberg. Long story short, he never showed (something about bad traffic), so we had our team of lab techs download this thing and start shooting.
With dramatic footage/brisket taco eating captured on video, we used the Cinefy effects board to simply drop in some subtle extras. Like fiery explosions, an operatic score and a Tyrannosaurus rex. Random dinosaurs always kill at Cannes.
THE VERDICT

Yes, this thing works, and yes, you should probably download it. Especially if you've got some clips on your phone that would benefit from a B-movie alien invasion.
Or you own a precocious cat.