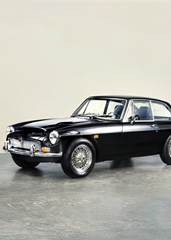 Tomorrow, you will sit around a table and eat things.
And drink things.
And give thanks for being able to eat and drink those things.
But that's tomorrow.
So feel free to be thankful for this in the meantime...
It's a shiny new website called
Man of the World
, and it's a meticulously curated hodgepodge of vintage Americana just begging for you to get lost in its musk, online now.
Robert Redford. Steve McQueen. Paul Newman. It's very "those guys" in here. In fact, those guys were the inspiration behind every last bagatelle, powder-blue Ferrari and stone cufflink you're likely to run into throughout the perusal process.
So take a hard look around the place where you live. Your living room, for example. No way that corner over there doesn't need a '50s-looking wooden bar table in it. And your garage... well, let's just say it could definitely benefit from at least one more 1969 MGC roadster. They've got all that stuff.
But eventually, you'll need a break from clicking the button that says "Add to Bag." And considering the whole "Man of the World" concept also comes in magazine form (which reminds us, it also comes in magazine form), expect plenty of vintage lifestyle-y reading material on the site to occupy your downtime.
You love a good vintage lifestyle-y read.