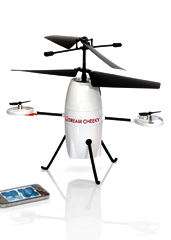 2012: great year for aerospace-related accomplishments.
Curiosity
went to Mars.
Some guy named Felix skydived from outer space.
And you flew a helicopter around your office using only your phone.
Meet
iStrike Shuttle
, a drone/helicopter/highly complex time-waster that's controlled via the touchscreen on your iPhone, taking preorders now for deliveries as early as December.
If you're only going to buy one hovering robotic aircraft with two spinning rotors, tripod landing legs and Bluetooth connectivity this year, let it be this one. Also, you don't have a choice. It's the only one of its kind.
This thing makes a good holiday gift. And an even better addition to your office (productivity be damned). You'll order the chopper online and download the flight-control app from
iTunes
, and while you wait for the craft to arrive, consider reading the lengthy PDF instruction manual. That's where you'll find out how to operate the ping-pong-ball launcher.
Yes, we said ping-pong-ball launcher. There's a slot in the base of the shuttle that can store and fire one ball at a time.
So make it count.