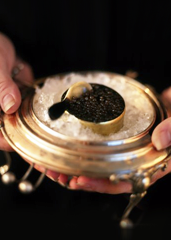 Sometimes, you just want to relax.
Dram of whiskey. Crackling fire.
The Very Best of Dionne Warwick
in the background.
And sometimes, you just want... the opposite of that:
Dance floor pony rides. Champagne push pops. Actual Dionne Warwick in the background.
Oh, and a boatload of some of the finest caviar known to man...
Which also answers to
Eric Ripert Imperial Select Caviar
, a holiday-soiree-friendly batch of roe-y exquisiteness from the famed Le Bernardin chef, available now.
Chef Eric Ripert—legendary French chef. Makes a devastating lobster goulash. Loves a good
Top Chef
appearance.
Also, he's the guy who just teamed up with some egg farmers in China, Israel and Italy to produce the kind of sturgeon roe that may or may not make you start caring about the practices of egg farmers in China, Israel and Italy.
Which is to say, it's inappropriately delicious. Seriously, you shouldn't even look at it. Or better yet, do. And then invite a bunch of friends over to watch you spread it on crackers in a really ceremonious way. Pass them around. Get involved. It's caviar.
And since a comestible of this magnitude ought not be considered absolute without the proper accoutrements, it'll arrive at your door swathed in a satin pouch complete with a black mother-of-pearl spoon, a few French blinis and a mini container of crème fraîche.
Congratulations, you just crushed the holidays.