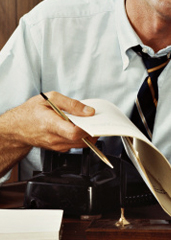 Ah, the workplace romance.
Sometimes, it works: Jim and Pam. Sam and Diane. Scully and Mulder.
And sometimes, it doesn't: David Petraeus and Paula Broadwell. Fleetwood Mac. You and that frisky assistant in HR...
Anyway: it's probably time to visit
ShareDesk
, an uncomplicated new website that lets you search for no-strings-attached office spaces in your neighborhood, available in beta now.
This is like Airbnb for desks. Except instead of hunting down a Miami studio apartment in time for Basel, you're finding a place to work.
Here's when this might come in handy. Say there's a late-night encounter involving you, a colleague and doing things with a copier that Xerox never intended. You could maybe use a place to lay low for a while.
Enter: this site. It'll find your location and available nearby workplaces. You'll browse through the results: a sleek warehouse in VaHi with a kitchen and lockers (bring your scotch). A brick building in Grant Park with private conference rooms and a roof deck (again, bring your scotch). So, book something. Go network. And if anything gets a little too NSFW, you can always go somewhere else tomorrow.
Oh, you can also rent out your own personal study. Just post the details online and name your price.
Just don't let things get NSFH.