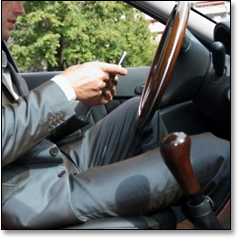 Now that it's a new year, it's time to make good on those resolutions. (Except for that one about cutting back on steak. That was pure madness.) We're referring to your vows to become a better, calmer motorist (as opposed to everyone else in this city...).
Here to help:
Lemur Autovision Key Fob
.
Think of Lemur as the ultimate backseat driver, but one that chimes in with cold, hard, mechanical evidence (rather than just, "Could you hit any more potholes?"). The gadget attaches to your key and taps directly into your car's internal computer system, getting the lowdown on all your braking (or lack thereof), accelerating and distance traveled. Then it provides real-time stats on an LCD screen, so there's no waiting until the end of the trip to know you slammed on the brakes a bit too much, or managed 95 mph on I-95.
We can see it coming in handy the next time you lend your car to a heavy-footed friend, or your new special someone who thinks texting is integral to the driving experience. And next time you're on the Julia Tuttle Causeway and thinking of reliving the chase scene from
Miami Vice
, you may stop to think of what the Lemur might say.
Or you could just use it to clock your progress.