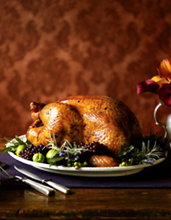 Soon, bread will be broken and turkey will be carved. Soon, thanks will be given and drink will be drunk. And soon... you'll realize you're doing it all wrong.
Thanksgiving, that is. Which is why we're about to show you
How to
Win at Thanksgiving
. First...
That whole food thing. Better call for backup...

Roland Meisner—aka the longest-standing White House chef in history—should do. Give him a call. He'll answer and everything. The two of you can talk about recipes he used to serve at 1600 Penn as it relates to your own dining room. And guests. And your taste buds.
Oh, right. Knives...

You'll need those, too. Sharp ones. The kitchen version of
Enter the Dragon
ones. The way we see it, you've got two options here: 1) Chiharu Sugai—he's the apprentice of Japan's top blade-sharpening guy. Big on discipline. Loves slicing things. 2) Guido and Italo Ambrosi—their ancestors were Moleti immigrants. Basically, the masters of making things sharper. Send them your blades and they'll send them back way sharper. Moving on...
To backyard football. Time to bring in the pros...

Like Jerry Markbreit. He's a former NFL referee who'll gladly come to your house and officiate your family's game of two-hand touch. Or better yet, if you're nearish NYC,
hit us up on Perks
and get Tiki Barber to come over and jump in the game. Yes, the real Tiki Barber.
Fake Tiki Barber had a prior engagement.