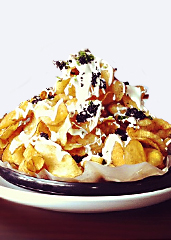 We're lovers. You know that. But every now and again, something comes across our desks that just seems... suspicious. Because of the tremendous material upside to all our lives if these claims pan out, we at times put ourselves in harm's way to investigate. Albeit skeptically.
We call it: Skeptical Investigation. (Trademark pending.)
THE CLAIM

Max's Wine Dive is in the business of fried chicken and champagne. But also, apparently, nachos. In this case, caviar-topped (oh right, there's caviar)
$62 Nachos
.
THE INVESTIGATION

This sounded like a job for our nacho intern... who we were shocked to learn didn't exist, so we embarked on the mission to obtain said off-menu item ourselves. Hey, if you want something nacho-related done right...
Two beers, one plate of fried chicken and half a Mavericks game later, our pile of nachos arrived. There, on the bar in front of us: one pound of housemade potato chips covered in crème fraîche, chives and an entire tin of sturgeon caviar. All served on a black plastic frisbee. Makes sense.
THE VERDICT

Although the salty chips and cool cream pair up shockingly well with the aggressive quantities of fish egg, we still probably wouldn't recommend this as your new go-to bar snack. Unless someone else is buying, then yes, we would.