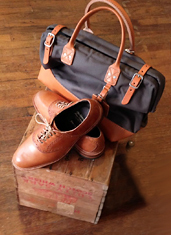 Golf season. It's finally...
... not anywhere close to here.
But hey, chin up. It'll be back around.
Plus there's always Pebble Beach. And indoor driving ranges. And tickle parties with sassy Russian baronesses.
That last one has nothing to do with anything, by the way. Just sounds fun.
Anyway, here's how to become a much more handsome golfer when the time comes...
Take a preemptive strike at
Pebble + Pine
, a web-based repository of golf-centric paraphernalia you won't necessarily find in a pro shop (why yes, we
are
talking about moonshine cologne and overly attractive bottle openers), online now.
Picture golfing.
Nice. Well pictured. Now picture golfing again, only this time with way more Billykirk leather and engraved circular flasks, and way less... normal golf stuff. That's what this place is all about.
First, you'll need to smell right—they've got Italian lime and pomegranate body wash for that. Then, you'll need to look right—they've got twill pants and crocodile leather wingtips for that. Books about the world's greatest golf holes: sure. Baxter of California shaving kits: why not.
And in case you plan on playing any actual golf in between smelling and looking all great, yes, they also have golf balls and grips and whatnot.
Good to see they have their priorities straight, though.