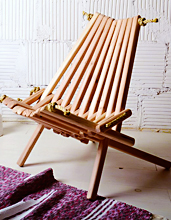 Get ready, because right now we're going to tell you the bombshell secret of why Romney really lost the race.
No, of course we're not.
We're going to tell you about some cool stuff for your place.
The stuff you can find at
Joinery
, a Brooklyn bastion of rustic home stuff from all over the country and the world, online and shipping for the first time now.
This is the kind of stuff that looks Instagrammed before you even Instagram it. Farmhouse-type stuff. Leather, wood and other things that look good with whiskey bottles on them.
Now, you can get some things to wear and/or carry here. Brass, silver and copper tie bars; belts from bridle leather; vegetable-tanned messenger bags from Japan.
But the focus here is on your floors and your walls. Because after all, someone may visit. Someone who you might want to offer a libation from a rocks glass made from clay in Pennsylvania.
You'll invite her to take a seat in your foldable chair made from wood and rope, while you tell her it's based on an ancient Mayan design. So naturally, it's from New Hampshire.
Later, a trippy-looking blanket woven in Brazil could be involved. And maybe a goatskin tambourine from Egypt.
You may want to celebrate.