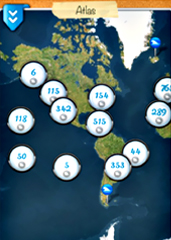 Just look at it out there.
The sun is shining. Dainty songbirds are riding warm breezes to places unknown.
The Best Exotic Marigold Hotel
finally hits theaters tonight.
Wait... that was summer.
Summer's gone now.
Which stinks.
Which is why you're about to have an endless one instead...
Break out the Sex Wax, say something Johnny Utah would say and meet
Breaks
, a new iPhone app that constantly monitors the best surf breaks around the world and shows you exactly how to get to them, available now.
Yep. It's definitely November. Which means that for the next few months, your aquatic sportsmanship may or may not be confined to a hot tub. Nothing wrong with that. But hey, it's a big world out there. One where warm bodies of salt water and bikinis still exist. That's where this thing comes in.
You'll put it on your phone and browse around a bit. That's when you'll realize there are at least 4,700 prime breaks at your disposal. Just sitting there waiting for you to throw some kind of board on them and get all "Woo hoo."
Check the forecast. Get a rundown of the real-time conditions. Flip through pictures taken by people who are already there. It's got a built-in Instagram feed and everything.
#bikinis is totally trending right now.