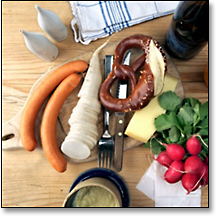 Sometimes you need to venture off the beach to find gold.
And when your idea of gold is a new beer-soaked bratwurst palace—and whose isn't it, frankly?—you're willing to trek a bit farther.
Starting your new year off right:
Jacob's in the Grove
.
Tucked into a quiet corner of Coconut Grove, Jacob's is like that great little eatery you found in Zurich, a Swiss gem dishing out plate after plate of rich, Alpine fare. If you're looking to impress a ski bunny, stay inside, where the merlot-hued walls, rouge banquettes and dark wood bar wrap you in a cozy B&B feel. Outdoors the scene is more tropical, with plush rattan furniture and blue lights twinkling overhead. (Sort of like summer in Davos.)
Dig into a menu of Teutonic staples like bratwurst, schnitzel and cheesy fondues. Keep it all lubricated with beer and house wine—which is free while the restaurant is still in grand-opening mode.
Here's to a debut fraught with delays.