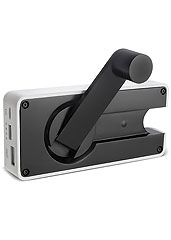 So... the people have spoken.
You're either happy or furious today. Either way, you're going to need more energy for your phone soon (#firstworldproblems).
This can help... and also be the source of a nice upper-body workout.
Behold: the
Etón Boost Turbine 2000
, a backup life-giver for your phone that allows you to generate power with only your brawn, available now.
We've all been there. You're enjoying a cheery hike through a thicket of forest. You go for your phone to Instagram a delightful chipmunk, and you realize you're out of battery life. And then you see Bigfoot. Well, instead of winding up as a pictureless eyewitness (who are always believable), you can just pull out this thing.
Give it about a minute of brisk winding, check the LED lights that tell you if the rechargeable battery has power and plug in your phone. You'll get enough juice for about 30 seconds of call time to tell your Aunt Susan all about Sasquatch, or just snap a few pics and text them to her (she's always been good with faces).
Crank it for several minutes, and you'll even give your phone battery a full charge.
It would be nice if your wallet worked the same way.