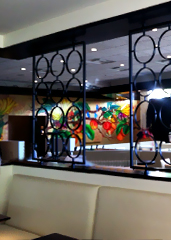 So today, sort of a big deal.
For politics, national security, job creation, shredded-brisket tacos, nachos and the success rate of first dates.
Oh, wait, never mind, we're mixing up our days.
The political stuff, that's today. And the nacho stuff, that's Monday.
Meet
Mi Cocina
, a Dallas-based Tex-Mex spot with fish tacos, beef nachos and 30-some-odd tequilas, opening Monday in Midtown.
If you took a picture of a classic taco joint (vibrant Mexican art on the walls, giant frozen margaritas on the bar) and applied a "sexy Midtown restaurant" Instagram filter to it, you'd have this place. Floor-to-ceiling windows, room-length white leather banquettes, multicolor glass chandeliers everywhere... giant frozen margaritas on the bar.
While coming here during the day for lunchtime nachos will never be a bad play, what you really want to do is use this as a Tex-Mex jump-off before a night of Midtown clubbery. Take a table upstairs, start with some
jalapeño-stuffed shrimp brochettes
and wash them down with a couple of cold Negra Modelos.
Or, better yet, save the washing down for a classic
Mambo Taxi
. That's a frozen margarita mixed with housemade sangria.
Sometimes you wish your house made sangria.