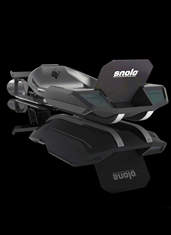 Meteorological alert: it's cold.
Which means soon, it'll be snowing.
So today, we're going to talk about shifting global weather systems in the post-Gore era. Just kidding, we're going to talk about sleds.
Specifically, this one:
Snolo Stealth-X
, possibly the most badass sled ever imagined, now accepting early-interest inquiries.
If you've ever dreamed of sitting in a sled like an F1 driver and screaming down snowy hills with the wrath of the snow gods, this is the vehicle for you. Six years in the making, it looks basically like what would happen if a snowboard and a motorcycle had a one-night stand.
Now, it's not quite available yet, but if you're interested in its potential for domination on the Arnold Arboretum hills (or, you know, Austrian ski slopes), drop them
an email
. When this thing finally arrives at your door, you'll have a sleek, aerodynamic chariot that can top out at over 40 mph (so start browsing for sled helmets now).
And don't worry about this thing being a pain to drag up the hill. Because it's made of carbon fiber, it weighs only nine pounds.
No, a little parachute doesn't launch from the back when breaking.