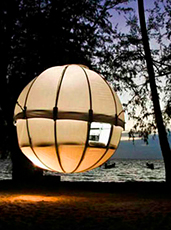 When you were a kid, you might've had a treehouse.
And if you did, it probably had everything.
Periscopes. Bologna sandwich dispensers. A giant waterslide that led to One-Eyed Willie's secret underground treasure cave (or maybe that was the Goonies).
Either way, it was great.
And so is your new treehouse. It's got a big, cozy bed made for two...
Funny how priorities change over the years.
It's time to make a little treetop magic in the
Cocoon Tree
, a floating aluminum treehouse that's shaped like a sphere, completely waterproof and may just be the next big thing in adult-sleepover technology, available now.
Picture spending the night in one of those cocoons from Cocoon. Now subtract Wilford Brimley, add someone taller, Frencher and less likely to challenge you to a game of Kick the Can. There you have it... treetop date night.

Once your floating antechamber arrives from France (like it's not going to arrive from France), you'll want to find a suitable hanging place. Between some trees should do. Then just screw in a few screws, secure the rigging ropes to your topiaries of choice and attach the included access net so you can get in and out of the thing.

From there, it's a simple matter of escorting your lovely confidante up the net, cracking the first bottle of gamay and... doing treehouse things.

You know, treehouse things.