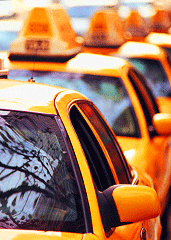 As you know, today is a special day.
It's Vanilla Ice's birthday.
But it's also Halloween. So we thought it was time that someone came to the door and gave you a treat. Or at least a ride.
That's why you're among the first to know about
Hailo
, a new app that lets you summon taxis to your exact position, available now for the Chicago market.
This service was started by London cabbies, and works pretty much like similar services. You'll download it, put in your credit card info, and when you need to be chauffeured to your favorite haunted house, it sends the nearest cabbie your coordinates. After you're squired to your destination, a receipt is mailed to you. No fumbling for your wallet necessary.
Now, there is an option to create a standard tip for every ride, but you can also give a little extra on those occasions when your driver goes above and beyond. You know, like driving you along your trick-or-treating route.
Or driving you to Champaign.