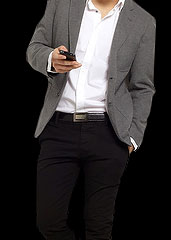 You're walking down the street.
(Yes. Walking. It happens.)
You're coming upon a stranger you'd love to meet. Turns out you're both pioneers in the field of bioresearch, or writing scripts based on condiments, or whatever weird LA thing you're into—and you could really help each other out.
Only... you don't know about this thing you have in common. You pass each other by and continue about your day. Never realizing you had a crosswalk opportunity. And you missed it.
Never again.
Introducing
Can
We Network
, a new location-based iPhone app that's a bit like a hookup app for professional networking, available now.
So you've heard of, say, Grindr or Blendr—those apps that link you up based on your match's most important characteristic: proximity. This is like those, only the goal here is to meet people you'll be interested in talking to with your clothes on. People who happen to be, like, standing right next to you.
So download it. Sign in with your LinkedIn account. And go about your life. Next time your phone's GPS tells the app you're within handshaking distance of a fellow titan of industry it thinks you should meet (there's some sort of algorithm based on your info), it'll introduce you. And you'll each see each other's profile and photo. After that, it's like
Where's Waldo?
in life.
And you're Waldo.