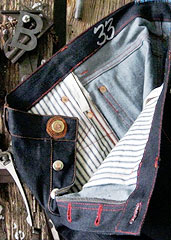 Butlers are great.
They iron your boxers. They know which cupboard the paprika is in. They call you sir.
And once in a while, they branch out and start making jeans out of vintage Japanese denim. And stingray skins. Not very often, but it happens.
Do the pants dance for
Brown, Deim Custom Made Denim
, your new go-to for made-to-measure dungarees from a Boston-based jeans wizard, available now.
The brainchild of a former Westchester, NY, butler who later became a Verizon technician (where he learned to stitch up his often-torn jeans), this is the new soup-to-nuts pants powerhouse you've maybe been hoping for.
The drill: reach out to him.
Go over the basics
(waist, length, stitching color). Then, let the fun begin. You can have your pockets accented with sand-shark, stingray or eel leather. (Relax, they're all non-endangered and farm-raised.) Or you can replicate classic biker Levi's styles of the 1960s. Or just add your initials to the fifth pocket. Then in about a week, you'll have your jeans.
And whether you opt for cheetah pleats or not (note: he doesn't offer cheetah pleats), you'll appreciate the base materials, like denim sourced from Japanese mills and American consignment stores. He even uses spent shell casings from 9mm bullets for the buttons and rivets, which he handcrafts with a 100-pound anvil.
So probably don't dispute the bill.