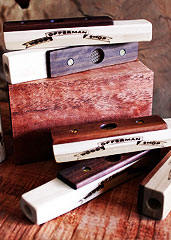 You get one wish today.
Just one.
Go.
Wow... we're not sure what's weirder: that you wished for a beautiful wooden kazoo created by one of the
Parks and Recreation
actors, or that we can make it happen.
In any case: say hello to the
Offerman Wood Shop Kazoo
, here to aid you in your quest to bring a little spice to Symphony Hall (or a jug house band), available now.
Okay, we don't know for certain if the mustachioed master of stoic comedy that is Nick Offerman made this handsome little pocket saxophone himself. But there's a good chance he did, considering it hails from the woodworking company he owns (which is equally bizarre and completely perfect).
About that wood: it's made from gorgeous poplar and walnut. And it's been hand-assembled to perfection, right down to the vibrating membrane responsible for those glorious timbral tones. (Note: that means it makes music by vibrating.)
So while others may use one of those plastic kiddie versions to produce sound, you'll be playing sweet, sweet music with a burnt-wood-branded melody maker, the likes of which have only been seen in your membranophone-crooning dreams.
And the Nitty Gritty Dirt Band.