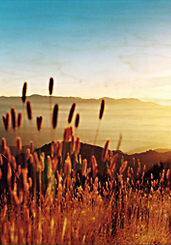 First, take a picture.
Any picture.
It can be of your dog. A sandwich. You sitting on top of Mount Fuji eating Fuji apples.
Then look at that picture and try to imagine how much better it would look on a big plank of wood mounted over your bed.
Miraculous.
It would look miraculous.
But if you don't believe us, check out
WoodSnap
, a new company that takes your photos and transposes them onto pieces of wood (yeah, it's kind of just that simple), available now.
Just think Paul Bunyan meets Instagram here.
Meaning from now on when you take pictures, consider what they would look like hanging above your mantel as works of art. Or in the bedroom. Or dangling around your neck. (That last option is if you decide to make a necklace out of your wooden picture instead of the traditional method of putting it on a wall. You'd probably be the first one to ever try that. So maybe go for it. Your call, though.)
Anyway, just hit the site and upload a pic. Once you do, they'll get to work putting it on wood and shipping it to your door. And if you want, they'll crop it or add text.
The speech balloon possibilities are endless.