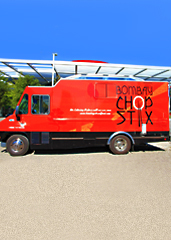 We know what you're thinking.
Big Tex has perished.
Dirk's hurt.
It's almost November and it's still 80 degrees outside.
The last thing you want today is more bad news.
And the first thing you want today is some kind of magical hybrid food truck that serves both Indian and Chinese food.
Please, allow us to oblige.
Prepare for
Bombay Street Food
, a mobile operation that's bringing Indian-Chinese fusion to curbs all over town, rolling around right now.
This is like a big red lunch box with wheels. One that's slinging combo platters at places like the Arts District and the Design District. And by combo platters, we mean something of the basmati rice with paneer (Indian-style cheese) and Szechuan chicken with noodles sort.
But before you can eat this, you'll need to find it. For that, there's
Facebook
and
Twitter
. Hone in on their location, then step up to the window. You'll start by choosing a base. Maybe some jasmine rice or perhaps some Hakka noodles. Then, a sauce... Asian garlic, Bombay chili, Shanghai black bean. And lastly, some protein. Let's say beef. (You should really say beef.)
And if you can wait until... say, Saturday, you can catch them at Klyde Warren Park. Just look for the big red truck.
Then ask the firemen where this thing is parked.