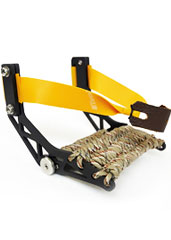 The presidential debates: over.
The Red Sox manager search: done.
Time to move on to more pressing matters.
Yep, slingshots.
Say hello with a
wapish
sound to the
GloveShot Slingshot
, a cross between an Erector Set, a glove and, well, a slingshot, available now.
First thing you should know: this is nothing like the stereotypical slingshot that animated characters of the Bart Simpson/Dennis the Menace breed use (Y-shaped twig, elastic band). Because those don't actually work very well.
No, this bad boy has a hard aluminum frame, features a paracord brace for the back of your hand that can withstand 550 pounds of torque, and is meant to be used while you take up the position of an archer (which will lead to more power, less wrist-stinging... and just looks cooler).
So stuff this into your backpack during hikes through the Green Mountains this fall. Should you see a squirrel eyeballing you malevolently, pull this baby out. Slide your hand through it, pull back the flat band and aim it at the little tree rat. If he doesn't stand down, do what you have to do.
Oh, and you'll also want to put something in the slingshot to use as ammunition. Acorn. Nickel. Candy...
In the right hands, Skittles are deadly.