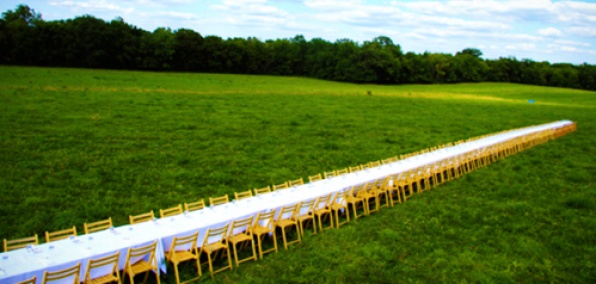 Let's set the scene.

You're driving on a dimly lit dirt road. You're hungry. You're tired. Cell coverage is spotty at best.

When suddenly, in the distance... a solitary farm.

You're either: about to enter a low-budget horror movie.

Or sit for a four-course feast with paired wine.

Like the ones hosted by Outstanding in the Field, a roving outdoor dinner party that's feeding you and 150 others in the middle of a farm, taking reservations now for Tuesday in Dodd City.

This is basically a pop-up supper club. One that tours the country setting up alfresco dinners with local chefs. This go-round: it's the ladies from Acme F&B and Good 2 Go Taco. They know a thing or two about serving grass-fed cattle, goats, pigs and chickens (or anything else within arm's reach).

But first, make a reservation. Then, find Dodd City on a map and head straight for Sloans Creek Farm. Here you'll discover rolling fields, the kind of fresh air that only exists outside city limits and one really long table. So go ahead, accept a glass of wine. Mingle. Pet a goat. Maybe ride a tractor. You know, do farm stuff.

Then take a seat, tuck your napkin into your shirt and eat. The menu's still in the works, but expect a bunch of unique chops and the occasional vegetable.

Like rutabaga.

Holy heaven, please let there be rutabaga.