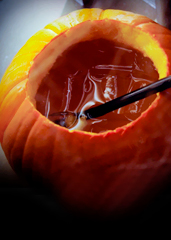 Pie. Spiced lattes. Charlie Brown specials.
All of these are really fantastic ways to use pumpkins.
And none of these are coming anywhere close to what we're about to reveal to you.
Meet the
Orange Pumpkin Ginger Fizz
, a sneakily strong spiked beverage that you'll sip directly from a freshly hollowed-out pumpkin, available now through November 4 at CinéBistro.
Halloween in cocktail form. That's what this is. Looks: like it should be sitting on a stoop. Smells: like autumn. Tastes: like those hard cinnamon candies you'd get trick-or-treating as a kid. You know, if your neighbors were giving out vodka-flavored treats... (In which case, interesting neighborhood. Congrats on being raised there.)
So say you've got a movie date this weekend. To see something scary. Like
Paranormal Activity 4
. Or
Here Comes the Boom
. Before taking your seats, stop by CinéBistro's bar, order a drink and tell them you'd like it in a gourd. The barkeep will produce a pre-carved pumpkin, free of all its seedy and slimy innards. They'll fill it with
three flavored vodkas
(marshmallow, ginger and orange), cinnamon-infused simple syrup and ginger ale. Bottoms up.
And if tri-vodka cocktails aren't exactly your thing, well, there are other concoctions you can get inside your oddly shaped, orange-skinned fruit. Like spiked apple cider or a punch made with two kinds of rum, pineapple juice and a little grenadine...
Sometimes a little grenadine goes a long way.