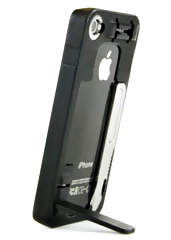 The truth.
Sometimes it hurts.
Sometimes it sets you free.
If you're Tom Cruise, well, sometimes you can't handle it.
But every now and then, the truth is necessary.
So please understand that what we're about to say is for your own benefit:
Your iPhone case is boring, and you need a new one.
There, now that we've got past that little bit of unpleasantness, take a good look at
ReadyCase
, the iPhone case equivalent of a Swiss Army knife, available now for preorder.
Think of this like a utility belt for your iPhone. An indestructible, paper-thin, aerospace-grade utility belt with a multipurpose serrated blade/flat-head screwdriver/bottle opener. And an integrated camera lens ring. And a clip for your earbuds. And a bunch of other surprises. You know, like a portable hard drive.
You'll preorder this thing now, and when it arrives, rejoice in knowing that your iPhone... can now open a beer, take wide-angle photos and get stopped at airport security every time you try and board a flight. (Right, you'll want to be mindful of the detachable knife.)
Oh, and about that hard drive. It's a little 16GB USB stick that's hidden in the back of the case. When not in use (transferring files or "borrowing" classified ones): it doubles as a kickstand for your phone.
We hear Bond has one just like it.