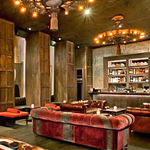 IT'S ELECTRIC
Electric Room
The Door Scene: Fur. Clacking heels. Forlorn rejects ascending back up the loading dock. Commiserative smoking.
Door Guys: Damon and Megan.
Rejection Rate: 35% to 45% turned away.
The Key: "Oh, yes, I'm with the M... [trails off] party..." Best to know someone.
Beyond the Gate: Couple of couches. Lots of people. The best basement party you've ever been to.