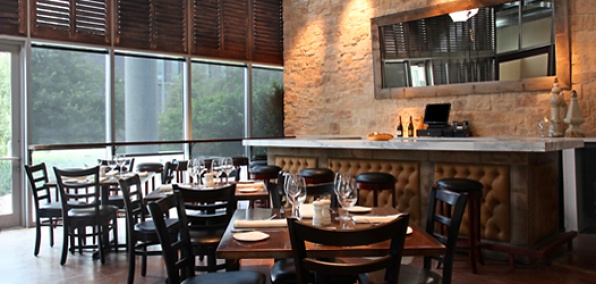 Let's play good news/bad news.

We'll start with the bad: the Commissary closed. And with it, a little burger-loving piece of you died.

The good: it's been reborn. The Ziziki's crew has rekindled the space, trading buns and burgers for... pitas and meatballs.

And just like that, you've already forgotten the bad news.

Welcome to The Greek, a table-for-two-type nook with pitas, lamb and really Greek/strong cocktails, opening Friday in One Arts Plaza.

Below, three ways to use it. Now go ahead, get to work.

For an Evening with Byzantine Royalty
Inside, it's all brown wood and limestone. Think almost medieval. But with fewer dungeons (like, zero dungeons) and more imported marble. Which makes it a strong contender for date night. So find the leather bench to your left, or grab stools at the bar. Or, honestly, just sit wherever your date wants.

When You Require a Pre-Theater Dinner
Last we checked, they don't serve smashed-meatball pitas at the Winspear. So you'll need to get that here. And some Greek fries. They're topped with parsley, oregano and feta. They'd probably make a great theater snack.

If You're Jonesing for Greek Brandy
The cocktail menu comes courtesy of Jason Kosmas. You might remember him from... every good drink you've had lately. Here, he's working with ouzo and Metaxa. Try the Constantinople (Metaxa, chai vermouth, pomegranate juice). Hey, that'd probably make a great theater snack, too.