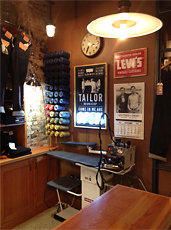 Your legs have been damn good to you.
Been there through thick and thin. Fire and ice. Sleet and snow.
They walk. They run. They splay. And if there were a league for professional standing, your legs would be first-ballot hall of famers, easy.
It's time to give something back.
Introducing
Levi's Made-to-Order Project
, whereby grown men slave to make a pair of Levi's for your legs and your legs only, now operating at the Levi's Meatpacking shop.
This is like having Levi Strauss himself stitching and grommeting his heart out for the sake of your own rugged handsomeness. A two-man operation that's going to measure you, counsel you, show you a world of denim you've never seen, ask "What kind of rivets?," perform some wizardry with seams and then present you with a pair of jeans that are just... so jeans-like.
But first, you've got choices—mid-rise or low. Pattern adjustments—slimmer, tapered, cuff, whatever. And your denim—it's all Greensboro-milled White Oak raw selvage (read: bulletproof), but you've got six blue-to-very-blue options. Lastly: the accents—12 different patches, several pocket-lining options, rivets, grommets, seam colors... It's intense.
Then they make the things downstairs. In four to five weeks, you'll have your jeans. They'll keep your patterns on file for future denim odysseys.
Or jorts.