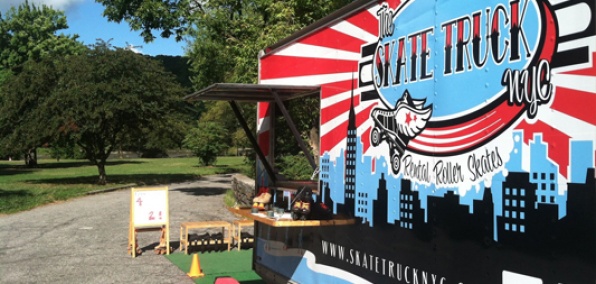 One day you woke up and said to yourself—you said, "Self, you've done all the roller-skating you're going to do in your life."

Then a single tear welled up in your eye, and you went to work.

But you were wrong. You were so, so wrong...

Say hello to The Skate Truck NYC, a large automobile dedicated to America's 13th most popular edible fish. Just kidding—it's a truck that delivers roller-skating parties to you, available for rent now.

You've acquired a disco ball. You've met a Rollergirl doppelgänger. You just have an irrepressible yearning for rink. All of these are possible reasons this exists—a truck full of roller skates (and blades, if you're extreme enough to handle that) willing to go anywhere you're bold enough to drop eight wheels.

What's going to happen is this: you're going to email them a request and a (hopefully) flat location. Something like, "Meet me and my 37 aggressive friends in my uncle's spacious Upper East Side billiards room..."—or maybe a basketball court or Times Square, if you like frustration—"Bring skates."

Then, it will be so. They'll bring helmets, pads, guards and laceable rolling apparatuses. You'll stretch in a ridiculous and comical manner while tonguing your monogrammed mouth guard. Then you'll all hit the rink.

Crack. That. Whip.