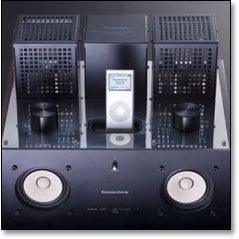 It's the holidays, and times are tough for a lot of people. So when it comes to gift-giving, someone's got to be practical.
Just as long as it isn't you...
Introducing Chicago-based
Gizmine.com
, a three-week-old site dedicated to the most amusing/needless gadgetry ever shipped directly from Tokyo (and that's saying something).
A spinoff of Dynamism.com—long a favorite clicking ground of early adopters—Gizmine is like your local Radio Shack if it were suddenly bought out and retooled by the curators of the MCA. You'll find about 500 quirky electronics-related items on the site, sorted by price, brand and even color (because if you're going to wear a bracelet that's also a USB drive, it really should match your tie).
There are too many to list here, but some of our favorite gifts-to-be include an iPod adapter made of vacuum tubes (for the music lover in your life), a wooden keyboard made of Canadian walnut (for the old-fashioned writer in your life) and a USB-enabled smokeless ashtray (for Don Draper).
But the real showstopper is actually more of an accessory: a cell-phone purse fashioned from a pair of skimpy leopard-print panties.
You've been wondering what to get your HR director...