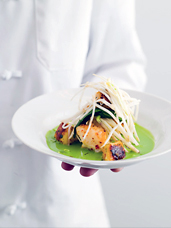 Certain questions are just impossible to answer.
You know the type.
Are we there yet... What's the meaning of life... Why do we park in a driveway but drive on a parkway...
Where, specifically, does John Tesar prefer to eat Vietnamese noodle soup...
Hey, finally, one we can field.
Consider
Chefs Feed
, a helpful and hunger-inducing iPhone app full of restaurant/dish recommendations specifically from Dallas's best chefs, available now.
This is basically a collection of every meal in the city that any chef you care about likes to eat. You can sort it by person. By place. By dish (in case you want to know where the pros get their massaman goat curry).
But first, you've got to download the app. Then, just browse around. You'll see that Kent Rathbun likes fried chicken from Babe's. And Abraham Salum constantly craves soba from Tei-An. And Tre Wilcox has a thing for the octopus and pork jowls at Oak. There, now you've got some inspiration for dinner tonight.
Oh, and it all updates live. So as chefs are uncovering hidden gems and off-menu dishes, you'll get an update on your phone.
Now about what to drink...