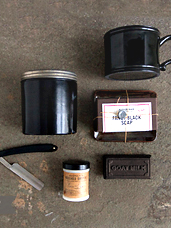 Picture one of those grab bags.
Like the kind from your third-grade graduation party where you blindly reached in and pulled out an eraser and a handful of Sugar Babies.
Now picture the adult version of that... as stocked by Danny Ocean and Norman Rockwell.
Let that marinate for a minute...
And when you're ready, welcome
Hudson Made
, an Internet-based compendium of rugged and randomly useful miscellany ranging anywhere from beard cologne to cherrywood coffee spoons (so, just the essentials), online now.
This is exactly where you'll turn when you're having one of those "I could use some really good-looking stuff for every corner of my life" moments. It's all made in the Hudson Valley, too. There's a real salt-of-the-earth vibe going on here.
Assuming, of course, your definition of salt-of-the-earth involves woolen dopp kits, English bridle-leather wallets (those'll be back in stock soon) and the same rosewater hand cream George Washington used back in the day (presumably before felling cherry trees).
You can stock up on vintage notebooks (with skulls on them), letterpress postcards (with dogs on them) and nature-y coffee-table books (with words in them).
Books are good like that.