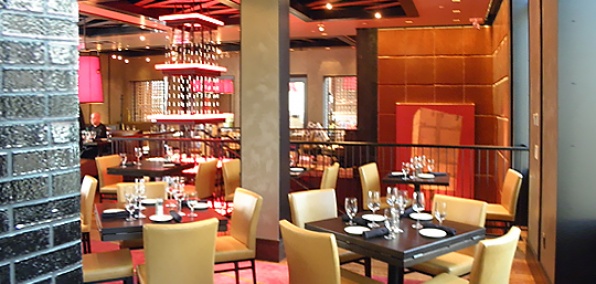 Patience is a virtue.
And my, have you been patient.
Standing by. Salivating. Biding your time.
Waiting for the filet mignon fairy to finally come and visit Atlanta.
Well, good news. Putting those T-bones under your pillow every night for the past seven months is about to finally pay off.
Bow your head, sharpen your steak knife and prepare to welcome
Del Frisco's Grille
, a two-floor prime-strip palace, taking reservations now and opening next Saturday in Buckhead.
Texas steakhouse meets one of those sultry "I've got 4,000 bottles of wine, a giant eight-tier chandelier and lots of mahogany stuff" lounge spaces. Yup, you could definitely get behind something like that.
And next weekend, you shall. With five clients from Denmark. Or four friends from Decatur. Or one date from Pilates. Start on the first floor, because that's where the door is. Also, that's where you'll find a big square bar serving
Buckhead Bettys
(rum, lime and a jalapeño). Get that. Toast that. And then carry that up a set of stairs to an island booth where you'll make the acquaintance of some
blackened BBQ steaks and Cajun lobster sauce grits
(a sorta surf and turf).
After dinner, step onto the bi-level patio for some fresh air/views of Peachtree/pineapple-juice-and-Tuaca
Honey Badgers
. Make a mental note about how this patio would be great for a fall brunch.
Then sip that
Honey Badger
and feel like a genius.