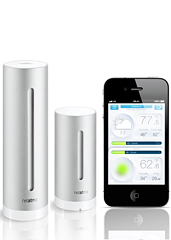 You know a thing or two about weather.
Summers: crazy hot.
Winters: less so.
See... weather.
But in case you ever needed to know, say, the exact parts per million of carbon dioxide on your deck. Or when to pack an umbrella. You've got this thing.
Behold the
Netatmo Personal Weather Station
, a really smart/not at all superfluous contraption for measuring and monitoring temperature, humidity, air quality and a bunch of other hard-to-understand weather-y things, available online now.
It's kind of like a weather balloon... for your iPhone. Actually, it's just a couple of aluminum modules that collect all sorts of weather-related data and then relay that data via wi-fi to an app. So you always know if the air quality's safe for a midday run. Or that, yes, it is indeed time to retrieve your light jacket from storage.
But first, you've got to order this thing. Do that, then place one module inside your house and one outside. Now download the app, and you're all set up to receive more weather info than you ever knew you needed. Yes, that includes barometric pressure.
And should you have a posse of weather-obsessed friends... well, good news, you can share your system's data on Facebook.
Also, you might want to consider getting new friends.