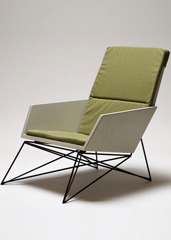 We're about to introduce you to someone.
Someone who likes to smash the bejeezus out of furniture with sledgehammers.
But more on that later...
For now, just know that his name is Brandon. He's the mad genius behind a new Arizona-based furniture and design company called
Hard Goods.
And he builds miraculous things out of concrete, wood and steel.
Things like fire pits and stools that look like tree stumps.
So naturally, you'll want to get involved. Herewith: three options for doing just that.
1) Scope Out the Permanent Collection Online

Simple enough. Just hit the site and peruse away. You'll find anything from the Triangulum (that composite concrete fire pit we mentioned) to an indestructible coffee table with built-in mug holders fabricated onto the surface. Thanks for trying out, coasters.
2) Fly to Brandon's Studio. Or Better Yet, Fly Him to You

The custom job. This guy's all about it. Come up with a design, run it by him and head to Tempe to micromanage the process. That, or he'll just come to your place. Make some tea. He probably likes tea.
3) Forget Buying Furniture... Destroy It Instead

You'll also find a few limited-edition pieces that are only available for 60 days. After 60 days... well, that's when Brandon annihilates them with a sledgehammer. And if you ask nicely, he may even let you help.
Which is weird, but go with it.