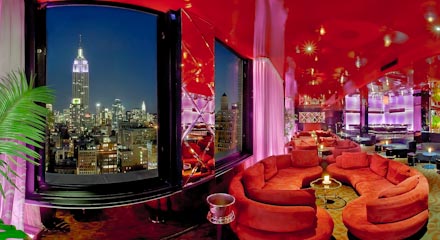 Let the rooftop drinking begin.
And no one's better suited to sound the call than Steven Greenberg, whose personal motto is—"only rooftops." The man behind the Gramercy Hotel penthouse and the Gansevoort rooftop now unveils the latest and largest rooftop bar in the city—
230 Fifth
.
Opening tonight via private party (and Thursday to the public), 230 Fifth is perched atop a random commercial wholesale building, the New York Market Center. Pass the lobby security and odd collection of crystal and housewares stores, and take a private elevator up to the 21st floor roofdeck. The doors open out onto a 14,000-square-foot luxe terrace of palm trees, wooden benches, and, of course, 360-degree views (including a dead-on stunner of the Empire State building). Two bars will keep spirits flowing through the open air, and eventually the roofdeck will open during day hours.
A set of stairs leads to the floor below, a plush velvet-and-mirrored Studio 54-meets-penthouse lounge (also called...230 Fifth). Although currently the lounge will only serve cocktails, by the end of the month Zak Pelaccio's (Five Ninth,
Fatty Crab
) Malaysian nosh fare will circulate on tricked-out wooden carts (you can also order from a more refined a la carte menu in the sit-down "dining" area). Expect Fatty Crab-like finger foods (designed to accompany cocktails), like traditional
Otak Otak
which is breaded and deep fried...fish paste (we're assured it's tasty),
Southeast Asian BBQ meats
,
Shredded Lamb Tea Sandwiches
,
Tamarind Palm Sugar Shrimp
and
Squid stuffed with Northern Malay Sausage
. 
The carts will also make their way around the roofdeck, which just might make this the most spacious and tasty rooftop in town.