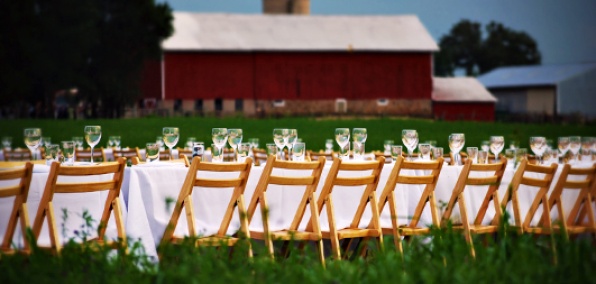 Sorry, udders.

You're no longer the most interesting thing on a farm anymore.

You're still incredibly weird and scary, but nope, not the most interesting.

Not while there's a 150-person, four-course, pop-up feast being held in your immediate vicinity.

Welcome Outstanding in the Field, an infamous alfresco supper club that travels the country hosting outdoor dinners in unexpected places, taking reservations now for next Wednesday at Riverview Farms.

You may have heard of these guys before. They roll around in a vintage red bus, stopping from time to time to throw together over-the-top meals... in roofless locations. Well, next Wednesday, they're doing all that pretty close to Atlanta (and really close to a bunch of livestock). Also, they've commissioned your old friend Joe Truex to do the cooking.

So start by making a reservation for two, then follow by making a beeline for the Appalachian foothills. You're looking for Riverview Farms (you may know their work/chops from Rosebud and Abattoir). Or more specifically, you're looking for a humongous white-linen-covered table. Get some wine. Tour the farm. Feed the chickens. Have some more wine.

And when the sun sets, you'll settle in at said humongous white-linen-covered table for a four-course meal under the stars. The menu isn't set yet, but expect a twist on the typical meat-and-three.

Like a meat-and-four.
Note:
<a href="http://outstandinginthefield.com/events/north-american-tour/?dinner_id=295" target= "_blank">Outstanding in the Field</a>, $190, taking reservations now for October 10 at <a href= "http://www.grassfedcow.com/" target="_blank">Riverview Farms</a>, <a href= "mailto:events@outstandinginthefield.com">email for more info</a>, <a href= "http://outstandinginthefield.com/events/north-american-tour/?dinner_id=295" target="_blank">tickets here</a>