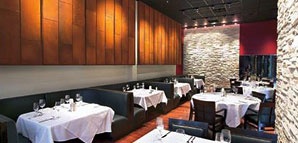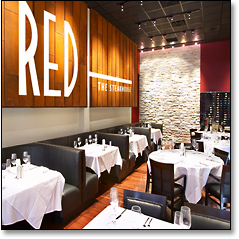 Competition is a glorious beast. Without it you'd have only one option when it comes to your favorite things (in the case of beer, we shudder to think of that dystopia).
Which brings us to steakhouses, and how Miami has become the Olympics of beef. Here to join in the bounteous meat-offering is
Red the Steakhouse
, a courageous contender from the suburbs of Cleveland, opening this weekend to friends and family.
Nestled in the booming South of Fifth neighborhood, this steak parlor has plenty of high-rolling neighbors (Joe's Stone Crabs, Prime 112), but what sets it apart is its Midwestern brio. (And by that we mean the guts to open near high-rolling neighbors.) The owners have recreated the Cleveland Red's anti-steakhouse look, right down its polished wood floors, white brick walls and glass-enclosed private dining room (perfect for your monthly Carnivores meeting).
There's plenty of prime aged beef here (it
is
a steakhouse from Cleveland named Red), but there's also a surprising number of Mediterranean dishes like lobster angel hair,
Trenne Carbonara
with shrimp, peas and pancetta and sides like parmesan tater tots. Oh, and there's wine, with 500 varieties on hand.
The more the merrier...