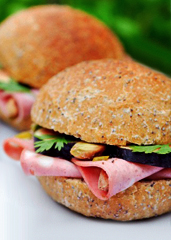 You're at Piedmont Park.
Trust us. You are.
Playing frisbee... with a prizewinning cocker spaniel... while the two of you admire autumn in all its face-melting f**king glory, when it hits you.
The unbearable need to annihilate a sandwich.
If only you didn't have to leave the park to get it. That would be nice.
Cue
Bella Cucina's Sandwich Scooter
, a short-range delivery service that's zipping boxed lunches to nearby addresses/grassy knolls by way of moped, available now on Wednesdays and Fridays.
You know Bella Cucina. They have pesto. And antipasti. And now, lunch delivery—think cured things in a sandwich, potato salad and an Italian-espresso-injected cookie.
So if this sounds like something you occasionally like to eat. And it's a Wednesday/Friday. And you're going to be someplace within scooter striking distance (Midtown, VaHi or Piedmont Park), give them a call ahead of time. Then wait, preferably by a pond, for a vintage-style, green Malaguti scooter to appear. In its wicker basket: food (specifically, your order). Roasted chicken with fennel slaw on focaccia.
Bacon jam on a brioche roll
. Egg salad with... come on, you're not really getting egg salad.
For now, their route is pretty limited. Ponce. Monroe. North Highland. But if this scooter thing takes off (seems like a forgone conclusion), they'll consider expanding the operation to new territories.
Otherwise, we suggest moving to somewhere on Ponce.