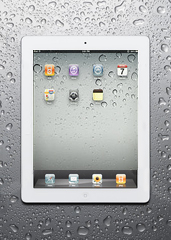 Hot tubs.
Sure, they're fun. Sure, they have bubbles. Sure, they may occasionally help you time travel.
But try taking your iPad into one. No fun at all.
Here to help:
LifeProof Nüüd
Cas
e, a new military-grade iPad holder so rugged it can handle your worst champagne pool party, available now.
What's most interesting about these cases is that you won't be able to tell your screen is covered. Because it won't be. Instead, there's an impermeable seal around your iPad, making it impervious to rain, sleet, snow and Jell-O—while keeping it totally responsive to your gentle touch.
So go ahead. Use your iPad as a shield in your next sangria balloon fight. Make that mermaid movie you've been talking about. Leave it in the refrigerator to document what's really going on in there.
First, however, you need to spend a little time—okay, a lot of time—reading the directions and beta testing the thing. Meaning you submerge it in a foot of water for a half hour. If no water penetrates, you can proceed to inserting your iPad. If water does seep in, you'll probably have to tighten a few screws and test it again.
Either that, or your iPad is a witch.